Post by Badgerman on Dec 5, 2014 23:42:32 GMT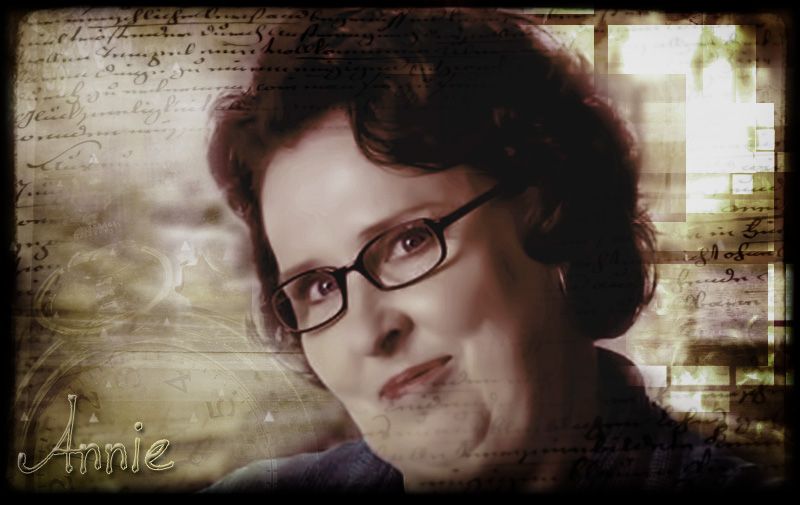 Name : Annie Oakland
Player: NPC
Chronicle : Birmingham by Night
Nature : Caregiver
Everyone needs a shoulder to cry on. A Caregiver takes her comfort in consoling others, and people often come to her with their problems. Vampires with Caregiver Archetypes often attempt, as best they can, to protect the mortals on whom they feed. Nurses, doctors, and psychiatrists are examples of potential Caregivers. Caregiver Kindred are often the type who -- tragically -- Embrace mortal loves they've left behind in hopes of softening their loss, or even those who create situations of grief in order to ease it and thus validate themselves. Regain a point of Willpower whenever you successfully protect or nurture someone else.
Demeanor :Celebrant
The Celebrant takes joy in her cause. Whether the character's passion is battle, religion, foiling her rivals, or reading fine literature, it gives the Celebrant the strength to withstand adversity. Given the chance, the Celebrant will indulge in her passion as deeply as possible. Unlike the Fanatic, the Celebrant pursues her cause not out of duty, but out of enthusiasm. Crusaders, hippies, political activists, and art enthusiasts are Celebrant Archetypes. Celebrant Kindred may cleave to mortal ideologies that are incongruous with their new Damned conditions, or they may be the advocates of new trends and causes that move through undead society. Regain a point of Willpower whenever you pursue your cause or convert another character to the same passion. Conversely, lose a point of temporary Willpower whenever you are denied your passion or it is badly lost to you.
Dominator : Kade Sinclair
Haven : Private semi detached residence
Concept : Mother Hen
Attributes
Physical-------------------------------------
Strength : 2
Dexterity: 3
Stamina : 2
Social --------------
Charisma: 4
Manipulation : 3
Appearance: 2
Mental--------------
Perception : 3
Intelligence : 4
Wits : 4
Abilities:
Talents ------------
Acting : 2
Alertness : 3
Athletics : 0
Brawl : 1
Dodge: 1
Empathy: 3
Expression : 2
Intimidation: 1
Leadership: 1
Streetwise: 1
subterfuge: 2
Skills -------------------------
Animal Ken: 0
Crafts: 1
Drive : 3
Firearms : 1
Larceny : 2
Melee: 0
Music: 1
Performance: 2
Stealth: 0
Survival: 1
Knowledge ---------------------
Academics: 4
Computer: 1
Finance: 3
Investigation: 1
Law: 4 (Camarilla Law)
Linguistics: 1 (french and english)
Medicine : 0
Occult: 1
Politics: 3
Science : 0
Technology: 2
Disciplines: ---------(3)------
Potence: 2
Auspex: 1
Presence : 2
Backgrounds ------(5)------
Resources: 2 (a comfortable salary from the Goldleaf club)
Allies: 2
Contacts: 4
Domitor: 5 (Kade Sinclair)
Virtues ----------(7)----------------
Conscience : 4
Self- control : 2
Courage : 1
Humanity : = 7
Willpower = 4
Merits:
Benevolent Domitor [ Ghouls: Fatal Addiction -- Page 83 ]
For whatever reason, your domitor is actually rather fond of you. Perhaps your service has been exemplary, or perhaps you simply remind him of someone in his past -- given the alien nature of the vampire mind, you may never know for sure. Your domitor treats you with some measure of compassion and does not casually endanger your life. Of course, he still expects you to give your life for his if need be, but until that night, the two of you are something akin to friends.
[ 1 ] Elysium Regular ( Vampire: The Masquerade 20th Anniversary Edition -- Page 487 )
You spend an unusual amount of time in Elysium. You see and are seen to such an extent that all of the movers and shakers of Elysium at least know who you are. Extended time spent in Elysium also gives you extended opportunities to interact with the Harpies and other Kindred of that stature -- and they'll know your name when you approach them. This Merit is generally taken by vampires that respect and attend Elysium on a regular basis.
[ 1 ] Harmless ( Vampire: The Masquerade 20th Anniversary Edition -- Page 487 )
Everyone in the city knows you, and knows that you're no threat to their plans. While that sort of estimation may seem insulting, it's also what's kept you from being killed. No one considers you worth their time to deal with, and that low opinion keeps you safe. If you start acting in a way that demonstrates that you are no longer harmless, others' reactions to you will likely change as a result.
Flaws
[ 1pt Version ] Bad Sight ( Vampire: The Masquerade 20th Anniversary Edition -- Page 481 )
Your sight is defective. The difficulties of any die rolls involving the use of your eyesight are increased by two. As a one-point Flaw, this condition can be corrected with glasses or contacts; as a three-point Flaw, the condition is too severe to be corrected.
[ 1 ] Soft-Hearted ( Vampire: The Masquerade 20th Anniversary Edition -- Page 485 )
You cannot stand to watch others suffer. You avoid any situation that involves causing someone physical or emotional pain, unless you make a Willpower roll (difficulty 8). You must have a Humanity rating of 7 or above to take this Flaw -- vampires on Paths of Enlightenment can only take this Flaw with Storyteller approval.