Post by Scrammel on Jan 18, 2015 21:10:13 GMT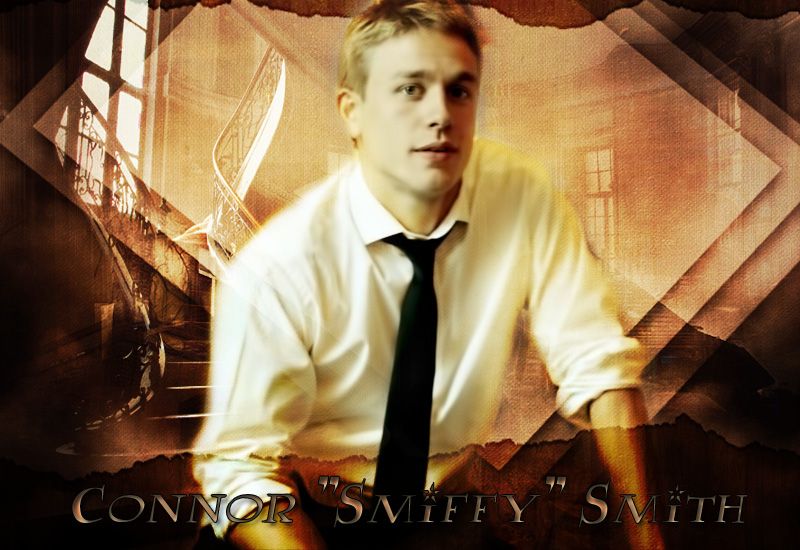 Name : Conner "Smithy" Smith
Player: Scrammel
Chronicle : Birmingham by Night
Nature : Autocrat
Demeanor : Child
Clan: Malkavian
Sire: Earl
Generation : 11th
Haven : council estate flat
Concept : Cassanova Napoleon
Attributes
Physical-------------------------------------
Strength : 2
Dexterity: 3
Stamina : 3
Social --------------
Charisma: 3
Manipulation : 3
Appearance: 4
Mental--------------
Perception : 2
Intelligence : 2
Wits : 2
Abilities
Talents ------------
Alertness : 1
Athletics : 1
Brawl : 0
Dodge: 3
Empathy: 1
Expression : 2
Intimidation: 2
Leadership: 1
Streetwise: 2
Subterfuge: 0
Malkavian Time: 1
Skills -------------------------
Animal Ken: 0
Crafts: 3
Drive : 3
Etiquette: 0
Firearms : 0
Melee: 1
Performance: 1
Security: 1
Stealth: 2
Survival: 0
Knowledge ---------------------
Academics: 0
Computer: 1
Finance: 1
Investigation: 0
Law: 2
Linguistics: 0
Medicine : 0
Occult: 0
Politics: 0
Science : 1
Disciplines: ---------(3)------
Auspex: 1
Celerity: 1
Dementation: 1
Obfuscate: 1
Backgrounds ------(5)------
Generation: 2
Herd: 1
Resources: 1
Communal Haven: 1
Virtues ----------(7)----------------
Conscience : 2
Self- control : 3
Courage : 2
Humanity : 5
Willpower: 5
Blood pool: 12
Merits:
Harmless (1 point merit)
Old Pal (2 point merit)
Flaws :
Lazy (3-point flaw)
Derangement:
Delusions of Grandeur
Conner Smith is the typical racer boy chav of birmingham. In life he was constantly found on a park bench or hanging out down the local shops with a can of white lightning in one hand and a spliff in the other. A gods gift to women (or so he thinks) with a pretty boy face and an ego as big as a skyscraper. He was a low-level drug-dealer who dealt in E's and any other form of pills and low end drugs he could get his hands on, and he was living the high life. Or so he thought.
That all changed one day after he was walking back to his council estate with a spliff on the go and his hands down his trackies, after just collecting his stash from his supplier (Bobby). He was attacked by a mugger down a dark alley, or that's what he thought it was. He was shit-scared really and doesn't remember much about it. He pissed himself and was crying like a school-boy calling out for his mommy when the man ripped into his neck and chowed down. Conner lost consciousness quickly and fell into darkness.
He woke up shortly after smelling of piss with a blood stain down his neck and down his chin confused about what had happened and ran back home. He quickly dumped his trackies and washed off the excess blood before someone started banging on his door. He picked up his baseball bat holding back the tears in case he burst out crying and headed for the door. As he reached the hallway however, the door splintered and was forced in and he was confronted by a raging beast. The raging beast was a Malkavian called Earl. He screamed and flew at the beast, and the next second he found himself waking up again on the sofa with a bump on his head and a really bad headache.
Earl was still there, and he explained what had happened. Conner had been chosen by Earl to be his new childer (In actual fact it had been an accident, Earl had been draining the kid dry when Conner had tried to fight back and bitten into his hand drinking some of his vitae and starting the transition of being embraced purely by chance, but Conner didn't need to know that. Earl could have killed him, but he thought it was funny to let the kid go. He figured after everything he was owed a little accidental running around to stir up some fun) He taught him the basics about the kindred society he was now part of and he made the proper introductions to the prince and Kindred society. Conner had been shitting bricks through the whole ordeal. Being knifed by someone in an alley was one thing, but holy shit. Vampires were real? When did that shit happen? He played it up however, and before long he realised that he was a rising star. He was the new chosen pretty boy of this new life and soon enough everyone would be singing his praises once they realised what a gift it was that he had been embraced. He was fucking immortal, and he was going to run this city some day.
Pretty soon Earl got bored of his new joke and moved on to another pet project leaving Conner to his own devices. This was fine by Conner the old man was getting in his way anyway, besides as time went on he was starting to realise he was AWESOME!
Now it was time to make everyone else see that.